Dyson's first air purifying headphones – the Dyson Zone™ – will now be on-sale from January 2023 in China and from March in the US, UK, Hong Kong SAR and Singapore. Prices will start from US$949 / £749.
Following over a decade of air quality R&D, the Dyson Zone captures city pollution including gas, allergens and particulate matter whilst cancelling unwanted noise with advanced noise cancellation and pure, high-fidelity audio.
Powered by advanced lithium-ion batteries and USB-C charging, the headphones offer 50 hours of audio-only run-time. They were engineered by teams across the UK, Singapore, Malaysia and China, with a particular focus on software by Dyson's South East Asia campuses.
Dyson's MyDyson™ app can be used in conjunction with the headphones to adjust airflow speed and noise-cancellation mode as well as adapt the audio equalisation to preference, choosing from three modes: Dyson EQ (enhanced), Bass Boost (bassy) and Neutral (flatter response curve).
Purified airflow to the nose and mouth
The World Health Organisation (WHO) estimates that 9 in 10 people globally breathe air that exceeds WHO guideline pollutant limits. Dyson is aiming to tackle this health and fitness issue with its new dual purpose headphones.
"Air pollution is a global problem – it affects us everywhere we go. In our homes, at school, at work and as we travel, whether on foot, on a bike or by public or private transport." Says Jake Dyson, Chief Engineer. "The Dyson Zone purifies the air you breathe on the move. And unlike face masks, it delivers a plume of fresh air without touching your face, using high-performance filters and two miniaturised air pumps. After six years in development, we're excited to deliver pure air and pure audio, anywhere."
How does the Dyson Zone purify air?
Dyson's engineers have drawn on 30 years of the company's expertise in airflow, filtration and motors technologies as well as deep understanding of indoor and outdoor air quality.
The compressors in each earcup draw air through dual-layer filters and project two streams of purified air to the wearer's nose and mouth, channelled through the non-contact visor.
Negatively charged electrostatic filter media captures ultrafine particles such as allergens, and particles from sources such as brake dust, industry combustion and construction whilst a potassium-enriched carbon layer captures city gas pollutants like NO2 and SO2.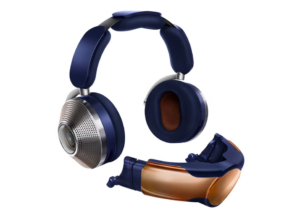 Sculpted returns on the visor ensure the purified airflow is kept near to the nose and mouth and diluted as little as possible by external crosswinds.
An on-board accelerometer monitors the wearer's activity, adjusting the purified airflow appropriately when in auto mode with the visor attached. Head detection enters the product into standby mode when not being worn.
Dipping the detachable visor activates conversation mode, stopping purification and pausing music, intelligently optimizing battery life.
Immersive sound to the ears with advanced noise cancellation
Dyson says that its headphones deliver rich, immersive audio and relief from unwanted city noise thanks to advanced active noise cancelling (ANC), low distortion and a neutral frequency response, to faithfully replicate music or audio as the creator intended.
Large, angled ear cushions mould around the listener's ear, with a medium foam density and headband clamp force engineered specifically for both comfort and optimal noise reduction.
Despite the space constraints inherent with a wearable device, each earcup contains a high performing neodymium electroacoustic system. A wide frequency response, precise left-right balance and distortion significantly below what can be detected by the human ear, offer a faithful reproduction as the musicians or creators intended. The Dyson Zone goes beyond the audible to reproduce frequencies from 6Hz-21kHz, ensuring every note or word is heard.
11 microphones feature within the product. The advanced noise cancelling system uses eight to reduce the sound of the city up to 38 dB these microphones monitor surrounding sounds 384,000 times a second.
Voice Calls
Dual microphone beamforming and noise suppression technology enable clear voice calls, voice recording and voice control.