Following new product details announced in August, France's ENGO Eyewear, the leading manufacturer of connected eyewear for sports, has announced that its new ENGO 2 advanced sports eyewear is now available for purchase (though notably out of stock online today in the US and Europe).
Created to give endurance athletes real-time access to performance data, directly in their field of view, ENGO 2 features advanced ActiveLook 2.0 technology. This technology enables athletes to see advanced performance data such as power, heartrate, pace, cadence, and running dynamics – at a glance.
With instant access to real-time data ENGO 2 eliminates the need for athletes to break stride or slow down to look at a watch or cycling computer. For endurance athletes, this can be a significant advantage over the course of a marathon or triathlon. In addition, ENGO 2's touchless gesture control makes it easy to toggle between custom data screens by waving a hand in front of the lens.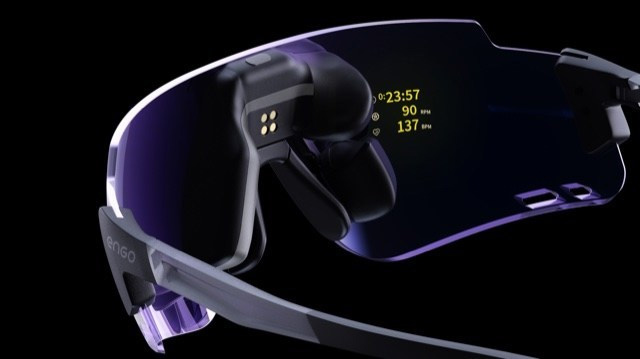 "ENGO eyewear gives you real-time control. You can glance at it – you're not having to stare at the numbers the entire time," said Paul Thomas, gravel racer and ENGO Eyewear customer. "They're really helpful. By having real-time control, you never go into the red. With these ENGO, I'm faster, safer, and a more confident rider."
Available in two sizes to fit a variety of face shapes, ENGO 2's frameless design comes with ENGO Eyewear's 100% satisfaction guarantee to ensure a comfortable, secure fit, and a clear, stable view of the user's data. ENGO 2 also features high-definition optics, moisture and dust resistance, impact protection, and 100% ultraviolet protection.
Connect with your Garmin, iPhone, Apple Watch, Suunto or Android device
"ENGO 2 enables users to take full advantage of data provided by certain Garmin, Apple, and Suunto products," says Eric Marcellin-Dibon, Engo Eyewear CEO. "ENGO 2 connects directly to compatible sports watches and cycling computers to provide performance in the user's natural field of view. We are the first company to deliver great brightness and visibility, lightweight, and long battery life in a product designed for runners, cyclists and triathletes."
The glasses can be used for 10-12 consecutive hours before being recharged and weigh just 36 grams for the standard size – the lightest HUD on the market.